Some have vilified him; others still celebrate him, but whether you loathed or loved when Ron Livingston Jack Berger broke up with Carrie Bradshaw with the infamous 7 word post-it note, you've got to admit: Ron is kind of a boss. He's clearly wise in the ways of concise communication and in making definitive decisions; he keeps good company and takes action. All in all, he knows how to work the world and the workplace.
It's basically magnificent.
So if you, too, seek to achieve awesome in life and at the office, ask yourself, "What would Ron do?"
(Or try these 7 tips in honour of one of the best movies of all time.)
1. Always be looking to create opportunities to improve your workplace.
Because you're inventive. And innovation matters.
WWRD: See a better way of doing things? Master the ability to maximize your workplace value by continuously looking for ways to expand your sphere of ingenuity throughout the organization.
2. Ask for more responsibility 
WWRD: Ask for more work, so your boss sees your interest and desire to help your department and company succeed. More responsibility also increases your knowledge-base and puts a spotlight on your value to the organization– and that's good. Unless that spotlight is from a florescent bulb.
No one looks good in florescent lighting.  (In the case of actual said lighting, see number 1 about improving workplace conditions.)
3. Don't skip the office party. No matter how lame you think it will be.
WWRD: Don't miss out on the chance to socialize with co-workers because you don't want to "mix business with pleasure." You're basically skipping out on a chance to learn more about office news and you end up alienating yourself from people who you spend 8 hours a day with. Who gets remembered when it comes time for an advantageous project or reward? Not what's his or her face who never shows up.  However, copious libations are generally frowned upon.
4. Be a team player
WWRD: Hold up your end. Don't call yourself a team player and then balk at having to pitch in on other projects. Complaining is futile; ask how you can help instead. Being a team player builds your reputation, and making  thoughtful decisions and having honest interactions with others is significantly noticed.
(But don't do this. This is a bad decision.)
Speaking of bad decisions…
5. Be drama free 
WWRD: Office environments mean you have to work closely with different personalities. Don't like a co-worker? Your boss doesn't or want to care. Unless there's a real problem, keep your co-worker complaints to yourself. Bringing drama to the workplace implies your maturity level isn't worthy of the next step. And no one likes a gossip either, by the way.
Stop that immediately.
6. Quantify your results 
WWRD: Those who get results get ahead (unless you have a horrid personality, no one wants to work for someone who can' t get along with others). Keeping records of what you've done to enhance the company's bottom line puts you and your department in the good books. It not only shows your value but also your loyalty and commitment to the organization.
7. Practice self-promotion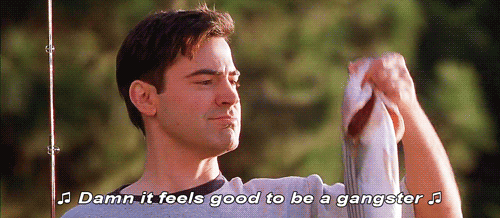 WWRD: Modesty is a virtue, sure, but if no one knows of your greatness, you wont get ahead. Let it be known if you've created an award winning program or achieved another worthy goal. Use performance appraisals not just to go over your accomplishments, but to talk with your boss about potential advancement opportunities. Sell yourself!
Now set forth, and achieve the level of greatness you're capable of.
And remember, if these 7 tips don't help you land the promotion, the post-it could also always help you leave to find another opportunity: